"ZEB"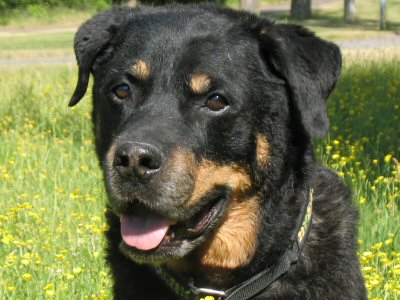 HD: free (excellent) ED: free
f.1996-02-28 - d.2008-09-04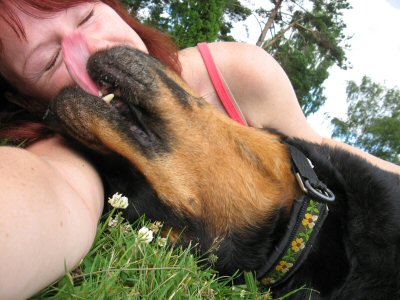 My best friend closed his eyes last night,
As his head was in my hand.
The Doctors said he was in pain,
And it was hard for him to stand.
The thoughts that scurried through my head,
As I cradled him in my arms.
Were of his younger, puppy years,
And OH...his many charms.
Today, there was no gentle nudge
With an intense "I love you gaze",
Only a heart thats filled with tears
Remembering our joy filled days.
But an Angel just appeared to me,
And he said, "You should cry no more,GOD also loves our Rottweilers,
HE's installed a 'doggy-door"

ZEB - Did you know that....
I had put a nice cosy blanket on the floor next to the bed in case Zeb was homesick when we got him. Were did Zeb sleep ? He went to the hallway and slept all by himself:)
Zeb was terrified when he got a little squekytoy that looked like a turtle. He ran away and played with the toilett brusch instead :)
The first time my father was watching Zeb I called him five minutes after he left in case Zeb was scared. What did Zeb do ? He was eating candy in my father's garden and was so happy !
Zeb was so afraid of his own bark the first time that he hid behind my legs :)
Zeb had to amputate his claw-bone after an accident when he was 3 years old. So he only got 3 claws on his right paw.
Zeb can laugh ! When someone he really likes are visiting he lifts his upper lip and laughs :)
Zeb also looks like his smiling when I'm angry at him - Then he puts his nose next to my cheek and waits until I say: It's okay. Then he becomes sooo happy !
Zeb loves bitches, but he has learned that some of them don't like to be sniffed in the but. So his a bit careful in his old days :)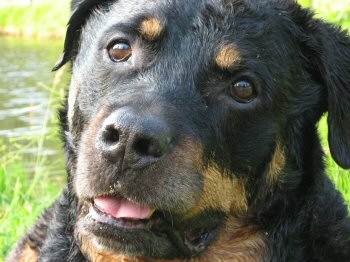 Zeb heels with me all by himself in hope of some candy.
Zeb loves the smell of a certain boiled hotdog and he can sit for hours if he smells the cent in the kitchen.
Zeb carved a gigantic hole in the concrete wall when he was young !!
Zeb gets hormone shots because he has prostate-problems
We often hear - He is so cute ! Even if he is a Rottweiler !
Zeb bit my brother in the but when we played with a laser pen :)
Zeb likes agility so much that he screams if I train with Ozzy and he gets to watch :)
Zeb didn't know how to swim before he turned 6 !
Zeb weighs about 49 kg
Zeb makes a snoring sound before he barks , and I can now get him to bark by making that sound :)
Zeb likes to play with me and he walks just like a Border Collie does with the sheep's.
Zeb has got curly coat in the neck from the hormone shots..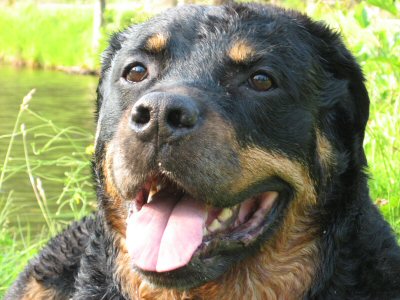 The King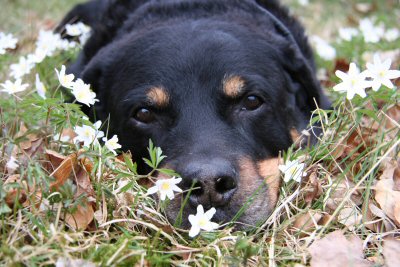 Underbara ögon
ZEBS STORY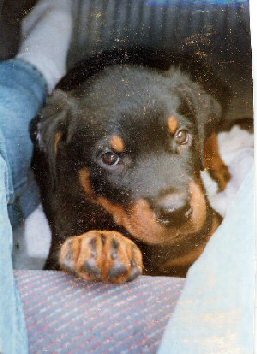 Ever since I was very young I've always dreamed about a dog of my own. I borrowed dogs from friends and took other peoples dogs for walks. But when I moved away from home the time had come for a dog of my own.
I read all the books about dogs that I could lay my hands on, checked different kennels, looked for adds and looked at dogs. After lot of thinking and looking I decided that it was a Rottweiler I wanted.
Then the search for a kennel begun. I contacted the Swedish Kennel Club and got a list of kennels and then I started too call them.
When I talked too Annika at Kazzel´s kennel it felt right and we decided that I should come to the kennel and look at the puppies – I could hardly wait!
Then the day had come – we went to the kennel and were greeted by 8 lovely rottypups and I wanted them all. But since I wasn't such an experienced dog owner Annika helped me with the selection of puppy. And so we got Kazzel´s Akie now a days Zeb.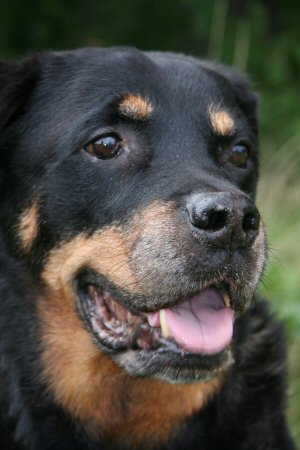 The very last picture of Zeb
He wasn't so dominant, but very forward and curious. On the way home it became too much and he threw up at my sweater, but who cares when you are holding a little cuddly puppy in your arms. I was already in love with him!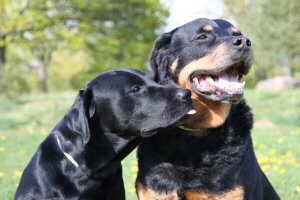 He was always so good with Ozzy

I have never had any regrets about buying him. But he was very stubborn and were always looking in to what he could gain from the situation. He loved to work, but if he was not in the mood I had to give 110 % to make him like it.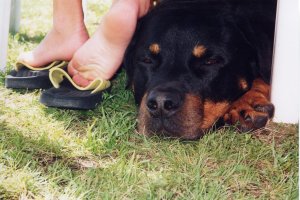 He were very cuddly and loved to be close to us. He loved to be hugged, kissed, to lay in my lap, to lay close to us and to be spoiled.
Zeb was a dog that I loved and still love with all my heart and I hope he is in a better place now.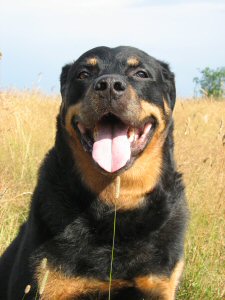 Our Sunshine !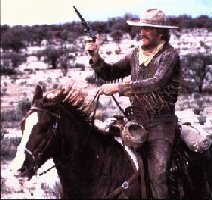 FUN TO KNOW : Zebbe is named after Zeb Mchahan in the Tv-serie