OZZYS STORY
I got the first thought about dog nr 2 when Zeb was 6 years old. Nothing was decided, but I was checking ads and homepages.

One day when I was checking out Hundis page I saw an add about a mixed breed Rottweiler /Flat. The Rottweiler is a favourite breed since a long time back and the Retriever breeds have also been in the top 10 breeds for me.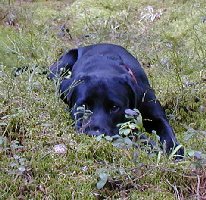 We went on an impuls to look at the puppies.
Our friends Linda & Fredrik with the dogs Zambo & Kazper gave us a ride to Vena.
We were greeted by 2 puppies. One of them was a little bit higher with Flat-coat and the other was more compact with coat like a Rottweiler. One of them became our Ozzy.
Luckily I had talked to my boss about having the puppy at the office (in case we got one)
So here we are with our happy, crazy, joyful young dog who we love, despite his attempt to make mums hair grey :)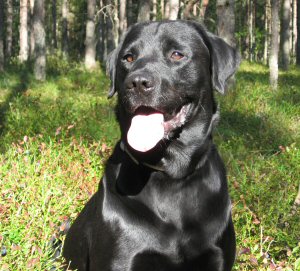 Mr Handsome
OZZYS FIRST DOG-SHOW
Ozzy and I went to a dogshow:) I´ve been to dog-shows before when friends have shown their dogs but never with a dog of my own. I´ts really not my stile - but it´s such a good place to train Ozzy with other dogs so we went :) So - how did it go ?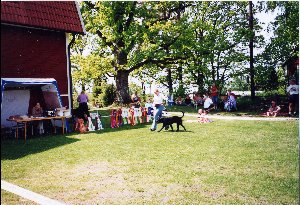 Matte & Ozzy in the ring
We came to Fagerhult in the morning and was greeted by all kinds of dogs. Ozzy was getting crazy in the beginning, but cooled down pretty fast. He could even take a little nap with his friend Kazper.
Ozzy was great in the ring ! We ran and stood still:) He kissed the judge, did´nt mind that she was grabbing him :) and didn´t mind the other dogs so much .He was really exhausted after the show and slept as a baby when we got home :)
Here´s Ozzys critic
Overall impression: Very good
Available: Utan anmärkning
Good looking male, good, maskuline head, good bite, good neck & chest, good backline, good backangles, good coat, well shown.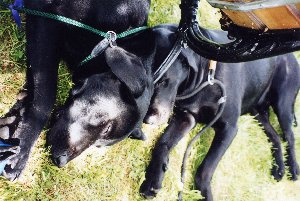 Ozzy & his pal Kazper are soo sleepy:)